Cubigel Compressors® moves ahead to top efficiency with Variable Speed Range Compressors
Cubigel Compressors offers a complete range of Variable Speed Compressors covering cooling capacities from 120W to 880W at ASHRAE32 conditions with up to 30% energy saving. These compressors are suitable for both freezers and coolers thanks to its wide operating range from -40℃ to 0℃. They are also able to work with a complete voltage range from 115V to 240V 50Hz and 60Hz. Together with the NVT50FSC,NVT70FSC,NUS100FSC models, the top efficiency model NUS125FSC would make your application ahead in terms of efficiency and energy saving.

Cubigel Compressors is committed to developing more and more efficient compressors for supporting to customers in the use of environmentally-friendly and sustainable solutions in the light commercial refrigeration market.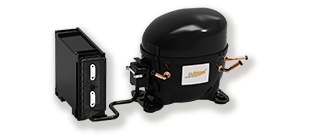 For details, please see Extended to 10.5cc, the high efficiency U Range from Cubigel Compressors®